Bonanza Investment
With the fast development of financial instruments, changing government regulations, and increasing market volatility, it is getting more and more complex for financial institutions to manage their portfolios. Therefore, its crucial for investment organizations to apply automated and sophisticated portfolio management system to increase profitability and meet the needs of the clients.

Bonanza Investment, WMSL's flagship product, is a complete portfolio management system with consistent strong support for the front, middle and back office operations. This award-winning software is diversified with sophisticated financial modules across all the major asset classes. The system also provides scalable and flexible structure so that the clients can either use it as stand-alone applications or combine the system according to their needs.
Bonanza Investment supports a wide range of decision tools to strengthen decision making and investment performance. The investors can simulate overall portfolios and check the limits via the compliance system. The system can help fund managers, dealers, compliance officers, and back-office operators manage the portfolios more efficiently, systematically, and smoothly.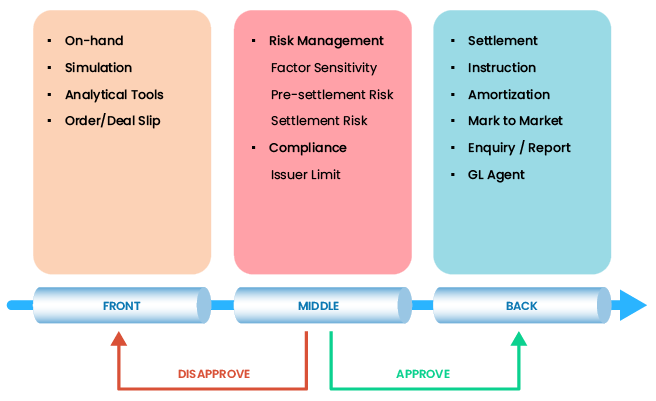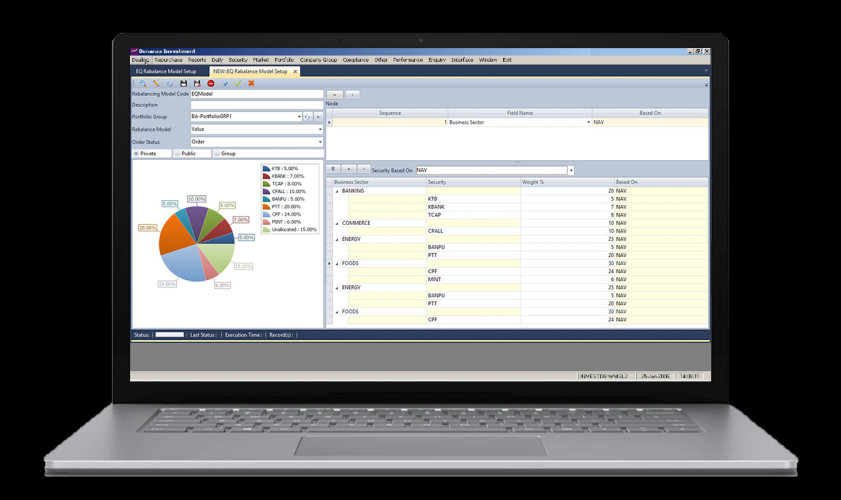 What makes Bonanza Investment different?
1st full service portfolio management system covering Front, Middle and Back office operations.
Wide range of asset classes in equity, fixed income, derivatives, futures, SBL, as well as digital assets.
A user friendly system with high compatibility & closely linked with Bonanza family products.
Embedded with world class best practices.
SYSTEM FEATURES
Multi-Financial Instruments Trading
Equity
Fixed Income Securities
Repo / Reverse Repo
SBL
Foreign Exchange
Derivatives
- Forwards & Futures
- Swaps
- Options
- Structured products
Simulation
Factor Sensitivity
Yield Curve
Weight / Portion
Portfolio Return
Performance Measurement
Buy / Sell Allocation
Portfolio Rebalancing

More Info >>>
Interface with other system
Dual Control System and Audit Log
Risk Management & Compliance
On line Limit Checking
Off line Securities & Exchange Commissions Rules
Fund Manager Limit
Counterparty Limit
Securities and Exchange Commission Holding Limit
Duration
Factor sensitivity (PVO1)
Reports & Enquiry
Cash Management & Cash Flow Projection
Deal Slip
Instruction
Portfolio Valuation & Portfolio Summary
Realized & Unrealized Gain/Loss
Cash Management
GL Agent
Net position by asset class, Market to Market
Accounting entry conforming with IAS 39
Bonanza Investment...
The Success Story
No. 1 Market Share
of 44% over World Class Competitors in Thailand
No. 1 Asset Under Management
US$ 100+ Billion
No. 1 Financial Software
Winner of Thailand ICT Awards (TICTA)
No.1 in Nationwide Software Contest
1st ever Winner of the IT Princess Award 2005 (FRIT) with World Class reference site
Request a demo? Call us +66 02861 4820 ext 5620-5622, 5628, 5629
Or send us an email and we'll try to get back to you as soon as possible.