Bonanza One Statement Service
Mobile Application for customers who use services through private funds
Serves as a personal electronic report where the investor can see the overview of the investment portfolio under management from the Asset Management Company.

Allows investors to track their monthly investment information with the Asset Management Company easily and quickly.

Automate data connection with Bonanza Investment system and Selling Agent system.
Dashboard
Overview of Return on Investment. Classified by type of investment portfolio and asset class to access information of the investment portfolio and the total asset value of the portfolio capital.
Asset Allocation
Holding percentage in each asset class shows the information on individual assets, Market Value, and Profit/Loss.
Portfolio Performance
The chart shows the return on investment, the total asset value and profit/loss. By selecting the returns during the period from 1M, 3M, 6M, YTD, 1Y, to 3Y, it can compare portfolio's performance with Benchmark.
Historical Transactions
Securities transaction history. Show information on the date of buy-sell, trade amount, cost value and net worth from trading.
Revenue / Expenses
Show Portfolio Revenue Fees
Realized Gain/Loss
Unrealized Gain/Loss
Dividend
Other Income
Show Portfolio Expenses Fees
Custodian Fee
Management Fee
Other Expenses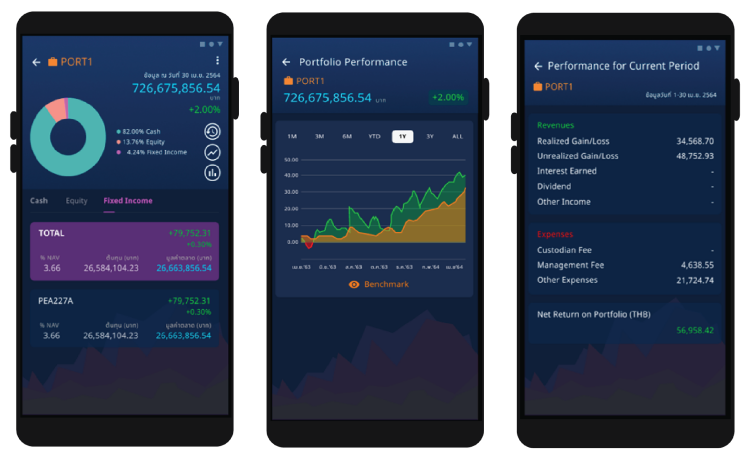 Request a demo? Call us +66 02861 4820 ext 5620-5622, 5628, 5629
Or send us an email and we'll try to get back to you as soon as possible.