Bonanza Bond Trading System
Bonanza BTS (Bond Trading System) is a comprehensive bond trading system that empowers traders and investors with its robust features and functionalities. The system optimizes every step of the bond trading process from account opening to trading (Secondary Bond), Simulation by Trader before making a decision, transaction recording, price calculation, and market valuation. By leveraging this advanced system, financial institutions, and traders can enhance efficiency, mitigate risks, and make data-driven decisions, ultimately achieving greater success in bond trading.
The system supports the following functions:
Front (Investor): for Open Account / Link NDID / Buy, Sell Secondary Bond / View Position / Realized & Unrealized Gain Loss
Front (Trader): Trading Bond with Counterparty / Bid Price, Offer Price for Investor
Operation: Bookkeeping by Portfolio (Investor) / Link to FinNet (Account Payment System Service) / Scripless Process (link with TSD)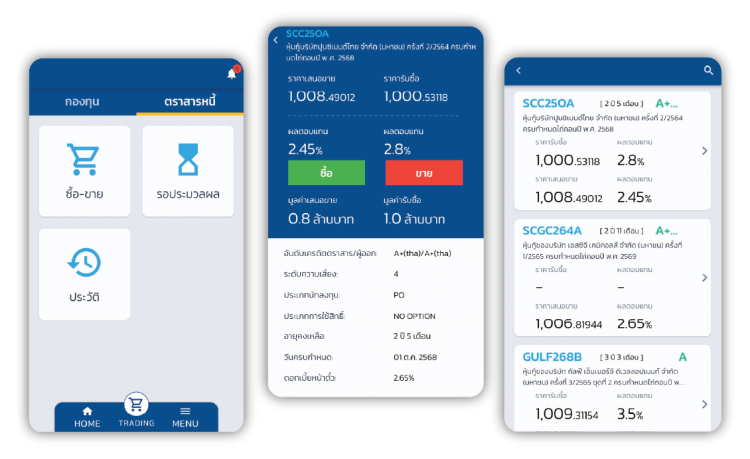 System Features
1. Account Opening and Trading of Bonds
Investor
1.1 Support for debt instrument trading account opening: For investors who have never opened a bond trading account.
1.2 E-mail notifying system to inform investors that account opening has been recorded, along with details for investors to submit additional documents for account opening.
1.3 The system will notify the result once the securities company has approved the account opening via e-mail.
1.4 Supports bond trading transactions for approved investors who have successfully opened an account.
1.5 Support for requesting a new password in case you forget your password. The system can automatically send a new password via e-mail to investors.
Admin Section
1.6 Searching for Information
1.6.1 Order Transaction(s): Administrators can search for transactions that investors order through the Internet.
1.7 Pending Transactions
1.7.1 View and approve Information for opening an account via Internet Trading
1.7.2 Customer (Pre-approval): Able to review and approve documents for opening an account through Internet Trading.
1.8 System Management
1.8.1 View and edit user information in the system.
1.8.1.1 Able to add, edit and delete a list of administrator users.
1.8.1.2 Able to set the status of the user who is the investor.
1.8.2 Able to define the functions of system users (investors). Permissions can be set for each screen.
2. Supports storing investor data daily trading Bond holding report, market price, profit/loss, and credit limit control.
3. Support for traders to analyze and simulate trading situations before investing.
4. Support to record the purchase-sale of debt securities with trading partners. There is a check of the transaction limit in a straight-through process from front-middle-back.
5. Support price calculation of bonds and debentures traded in Thailand.
6. Supports the price calculation from the rate of return and the rate of return on the price of bonds.
7. Calculate the market price (Mark-to-Market) of debt securities imported both in text file and manual format.
8. Record accounting costs by Yield Amortization method.
9. Supports the issuance of account heads according to the TFRS9 standard.
10. Support for debt instrument deposit issuance of debt instrument deposit certificates.
11. Supports connection systems with external service providers (Gateway) such as
11.1 Process Payment (ATS) with Bank
11.2 Process Transfer of debt securities (TSD) (bond deposit)
11.3 Submit transaction information to ThaiBMA
Request a demo? Call us +66 02861 4820 ext 5620-5622, 5628, 5629
Or send us an email and we'll try to get back to you as soon as possible.