The "The Battle Day" Season 5 was successfully held at the Stock Exchange of Thailand Building on the 30th of November 2019. An annual event organized by WMSL and WealthMagik, the event provides a platform to the Thai Asset Management Companies (AMC) to present the Long-Term Equity Fund (LTF) and Retirement Mutual Fund (RMF) products they offer to the masses. Following its Corporate Social Responsibility (CSR), WMSL organized this event so investors can properly choose and consistently invest in the right funds that are suitable for them to have a happy retirement.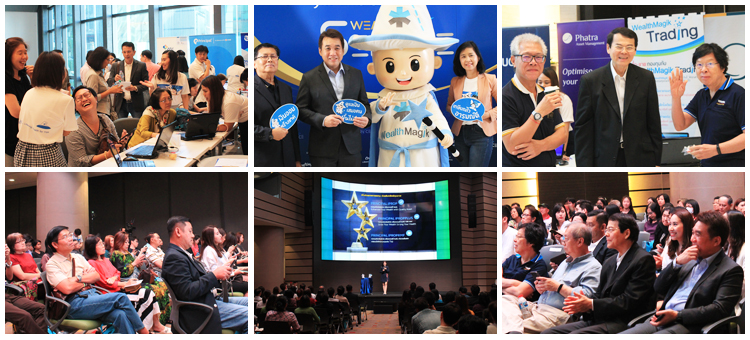 Thirteen Asset Management Companies have joined the event this year. These are Krungsri Asset Management, UOB Asset Management, Principal Asset Management, ONE Asset Management, Philip Asset Management, Krung Thai Asset Management, Phatra Asset Management, Thanachart Fund, SCB Asset Management, LH Fund, Talis Asset Management, TMB Asset Management, and Kasikorn Asset Management. The list of the mutual funds that each AMCs featured in the event can be found here.
In addition, Mr. Chaiwat Matevelungsun, Managing Director of WMSL, discussed "The World of Bonds", another investment that many people are interested in. One of the new features that WealthMagik just added this year is Bond information where investors can get information on the Primary and Secondary Bond market.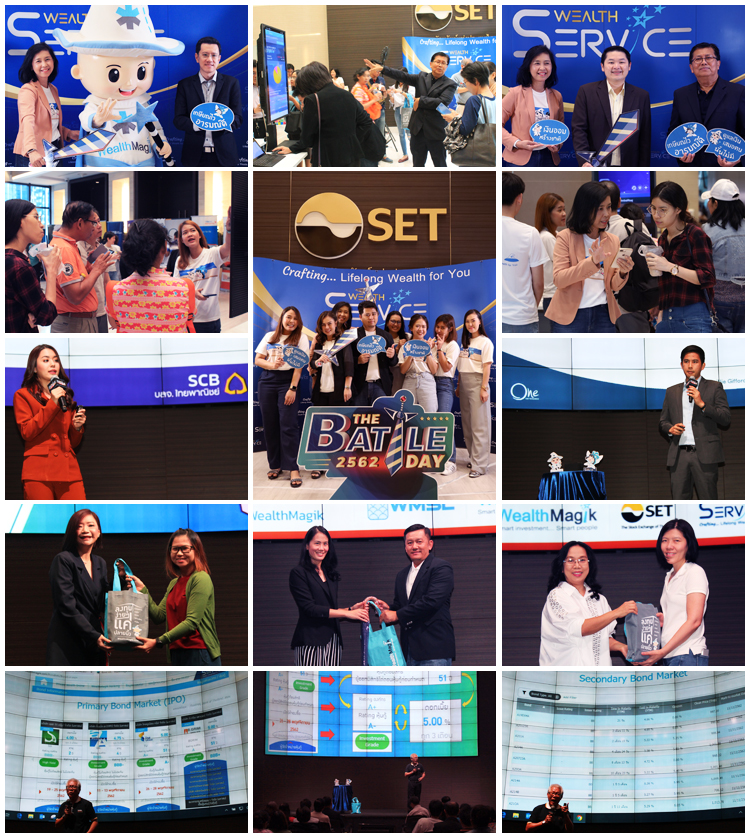 [Live]สด! ช่วงที่ 1 จากงาน #TheBattleสุดยอดกองทุนDCA ถ้าอยากรู้ สุดยอดกองทุนเด็ด จากบลจ.ชั้นนำ เพื่อลงทุนแบบ DCA ได้ มาดูกันเลยคร้าบบบช่วงนี้พบกับการนำเสนอกองทุนเด็ดจากผู้บริหาร / Fund manager จาก KSAM, CIMB-P, KTAM, ONEAM, SCBAM, MFC, TMBAM ครับเพื่อนๆ ท่านไหนต้องการสอบถาม ทิ้งคำถามในคอมเมนต์ไว้ได้เลยนะครับ

โพสต์โดย WealthMagik - ลงทุนง่ายๆ แค่ปลายนิ้ว เมื่อ วันศุกร์ที่ 27 เมษายน 2018
[Live]สด! ช่วงที่ 2 จากงาน #TheBattleสุดยอดกองทุนDCA มาต่อกันกับช่วงหลัง เพื่อหาสุดยอดกองทุนเด็ด เพื่อลงทุนแบบ DCA ได้ มาดูกันเลยคร้าบบบช่วงสุดท้ายกับการนำเสนอกองทุนเด็ดจากผู้บริหาร / Fund manager พบกับ TFUND, PHATRA, KAsset, UOBAM.ท่านใดมีคำถาม ทิ้งคำถามไว้ได้ถามได้เลยนะครับ ^^

โพสต์โดย WealthMagik - ลงทุนง่ายๆ แค่ปลายนิ้ว เมื่อ วันเสาร์ที่ 28 เมษายน 2018