On the 17th of September 2018, the awarding ceremony of the Software Park–WealthMagik Animation Awards Season 3 was successfully held at the Stock Exchange of Thailand Building. The event was organized by WMSL in cooperation with Software Park Thailand, National Science and Technology Development Agency (NSTDA), Thai Animation & Computer Graphics Association (TACGA), Stock Exchange of Thailand (SET), and the Capital Market Development Fund Foundation. The contest aims to enlighten and encourage Thais of all ages to save their money in Mutual Funds for the future stability of their families as well as the society through animation.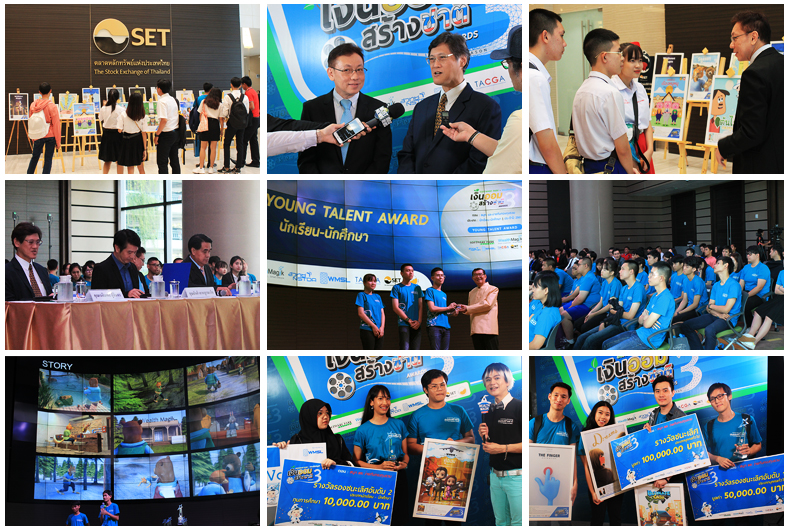 Just like last year, the contest has two categories; one is open for students and the second category is open for everyone. The contest was judged by Khun Santi Laohaburanakij (Executive Director of TACGA), Khun Jirapol Pobukadee (Senior Consultant for WMSL and Chairman of WealthMagik Mutual Fund Brokerage), and Khun Chalermpol Tuchinda (Director of Software Park Thailand).

LIVE!! รอบชิงชนะเลิศ (ช่วงที่ 2) อีกไม่กี่นาทีจะประกาศผลผู้ชนะ โครงการ Software Park - WealthMagik เงินออมสร้างชาติ Awards #3.ทีมไหนจะได้เงินรางวัลพร้อมโล่รางวัล มูลค่ารวมกว่า 260,000 บาท มาช่วยกันลุ้นนะครับ !!!!

โพสต์โดย SoftwarePark WealthMagik Animation Award เมื่อ วันจันทร์ที่ 17 กันยายน 2018
Sixteen teams have been included in the final round from the 107 teams that joined the contest. For the Student Category, Team Chanting of Sripatum University won the top prize while the 1st Runner-up went to Team Too Fantastic of the Prince Royal's College and the 2nd Runner-up to Team WinWin of Panyapiwat Institute of Management. Team Budpaesaniwat won the top prize in the Open Category, while the 1st Runner-up went to Din Animation Studio and the 2nd Runner-up to Team Sugarcubs. For the Popular Vote, Team Miracle of Monfort College Chiang Mai won the Student Category while Team P2M won the Open Category. The overall prize for this year's contest is 260,000 THB.
As one of its Corporate Social Responsibility (CSR), WMSL have done many projects to enhance financial, investment, and risk management knowledge for the society. One of them for WealthMagik is the comic book for the public to enlighten them on WealthMagik's valuable features. The second project for WealthMagik is the Animation Awards that aims to make the public aware the importance of saving for their future.