On the 4th of December 2013, Wealth Management System Limited (WMSL) joined the ASEAN ICT Markets Deep Dive Business Matching organized by the Software Park Thailand and Office of Small and Medium Enterprises (OSMEP). The event was held at the Sofitel Bangkok Sukhumvit Hotel and presented an opportunity for Thai ICT companies to meet and interact with other business representatives from other Asian countries such as Indonesia, Japan, Korea, Malaysia, Myanmar, and Vietnam.
Through this session, representatives of each ICT company have been able to exchange their business interests, explore business opportunities and discover further about the growing business opportunities in other ASEAN countries.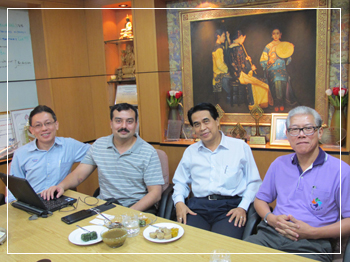 Last November, Alchemy Technologies' CEO Mr. Jawwad Farid made a courtesy call to WMSL. Alchemy is a boutique Enterprise Risk advisory firm with a market share of more than 75% of banking and 80% of life insurance assets in Pakistan. Both of the firms' Executive teams have the future perspectives to achieve lasting improvements in their performance and long-term success with their clients and to expand their target market in the Asia Pacific and the Middle East.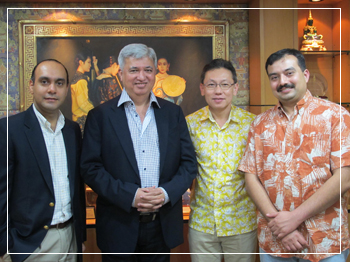 Sunoida Solutions is one of the emerging IT Service Technologies focusing on Banking Services and BI solutions and already have a strong presence in Africa and the Middle East. Since WMSL is known as one of the leading financial software providers in Thailand, Sunoida's Managing Director Mr. Suleman Dossani, and Chief Revenue Officer Mr. Sukirat Singh Kochar has personally visited WMSL to explore the prospects of working together for Asia Pacific region as well as in Africa and the Middle East.