As WMSL commits to applying the best technology in its business, the company sent four of its staff to join the Asia Oceania Regional Software Park Forum and IT Architect Regional Conference held at the Merlin Beach Resort, Phuket on October 8-9, 2009. The IASA IT Architect Regional Conference is the largest event in the region to address the pressing needs of IT architects today. Mr. Jirasak Tonwongwal, Mr. Wekij Liwrojsup, Mr. Artit Guntima, and Mr. Komsart Wesaratprasert represented the group.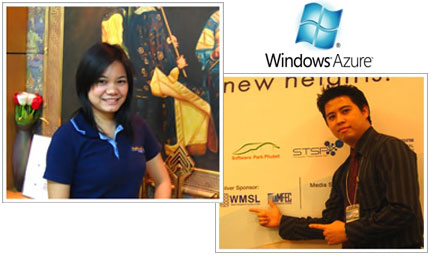 Meanwhile, on October 5-6 2009, WMSL sent two of its IT staff, Ms. Wongrawee Viboonsook, and Mr. Jirasak Tonwongwal, to join the 2-days Microsoft Azure Boot Camp held at the Microsoft Innovation Center Bangkok. This workshop was designed for Architects and Senior Developers and featured concepts in cloud computing and also a walkthrough of Windows Azure's flexible and interoperable platform. Cloud computing is fast evolving from a futuristic technology into a commercially viable alternative for companies in search of a cost-effective storage and server solution.
Microsoft Thailand announced that WMSL's Bonanza system had passed the compatibility test on its new Windows 7 Operation System. The test run has been held at the Microsoft Innovation Center Bangkok on August 17-21, 2009. This result just proved that the Bonanza System can continually satisfy the business and technical requirements of its customers in the fast-changing market and why Bonanza still holds the Number 1 Market Share in Thailand with US$ 50 Billion Asset Under Management.