Microsoft TechDays Thailand is the biggest event of Microsoft Thailand which is held only twice a year. The event was organized for IT professionals and developers, in particular, to be updated to the latest technology. During the event, amateur and professional developers competed in WOWZAPP Ver2013 (Worldwide Hackathon for Windows) to develop an application for the Windows 8 platform where WMSL had won the top prize for its WealthMagik App.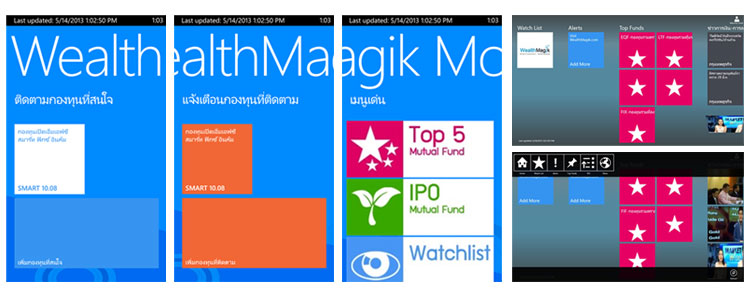 The WealthMagik App for Windows 8, both for the desktop and phone, can help any investors keep track of all Thai Mutual Funds NAV, including the purchase price and the selling price of each Fund Returns to help them effectively decide on trading funds. Like the versions on iOS and Android platform, the Windows 8 app also has features such as:
• Top 5 Mutual Fund: Display the highest 1-year return of Mutual Fund.
• IPO Mutual Fund: View Initial Public Offering for new funds.
• Watch List: Keep track of the funds that you are interested in.
• Alert: Receive notifications for NAV movements of funds that you follow.
The WealthMagik App for Windows 8 is currently in version 1.0 while the next version will come out soon with much more improvement in UI and features.