On the 14th of September, the awarding ceremony of the Software Park–WealthMagik Animation Awards Season 2 was successfully held at the Stock Exchange of Thailand Building in 93 Ratchadaphisek Road, Dindaeng, Bangkok. Wealth Management System Limited (WMSL) in cooperation with Software Park Thailand, National Science and Technology Development Agency (NSTDA), Thai Animation & Computer Graphics Association (TACGA), National Savings Fund, and the Stock Exchange of Thailand (SET) organized this contest with this year's theme "Easily Invest in Funds at your Fingertips" to encourage Thais of all ages to save their money in Mutual Funds.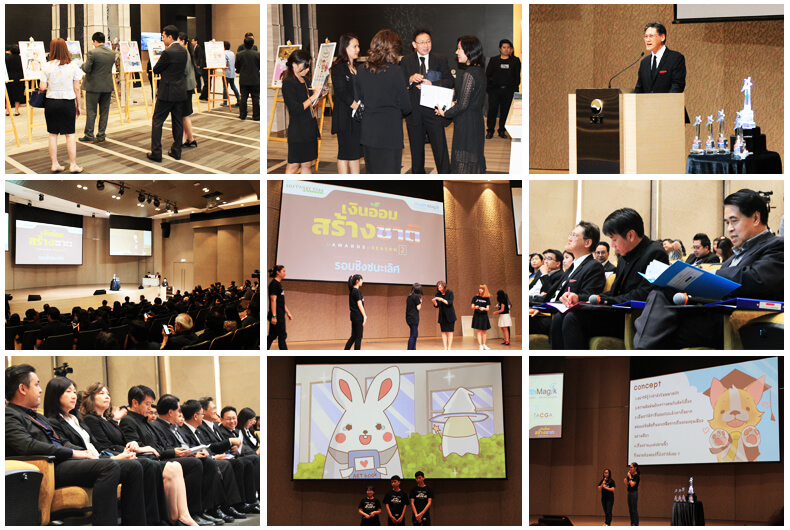 This year's contest has two categories; one is open for students, including those studying in high school, vocational school, and undergraduates while the second category is open for everyone. From the 77 teams that joined the contest, only 12 teams have been included in the final round.
For the Student Category, the first prize goes to Team Try Again of Panyapiwat Technological College, the second prize goes to Team Suad Mon Na Comp of Sripatum University, and the third prize to Team Buay of Silpakorn University. For the Open Category, first prize goes to Team HeyBoo!, second prize to Kradong Art, and the third prize goes to Motion Allure. For the Popular Vote, Team BBQ of Chiang Mai University Demonstration School and Kalasinpittayasan School won the Student Category while Team HeyBoo! won the Open Category. The contest was judged by Khun Santi Laohaburanakij (Representative from TACGA), Khun Jirapol Pobukadee (Senior Consultant for WMSL and Chairman of WealthMagik Mutual Fund Brokerage), and Khun Chalermpol Tuchinda (Director of Software Park Thailand).
LIVE!! อีกไม่กี่นาทีจะประกาศผลผู้ชนะโครงการ Software Park - WealthMagikเงินออมสร้างชาติ Awards #2ตอน กองทุนรวม.. เรื่องง่ายแค่ปลายนิ้วที่ใช้เวลาค้นหากันมาอย่างยาวนาน.ทีมไหนจะได้เงินรางวัลพร้อมโล่รางวัลมูลค่ารวมกว่า 260,000 บาทมาช่วยกันลุ้นนะครับ !!!!

โพสต์โดย SoftwarePark WealthMagik Animation Award เมื่อ วันพฤหัสบดีที่ 14 กันยายน 2017