On the 3rd of October 2019, the awarding ceremony of the 4th Season of Software Park – WealthMagik "Savings Build the Nation" Awards was successfully held at the Auditorium Room of Software Park Thailand Building. Software Park Thailand is an organization under the National Science and Technology Development Agency (NSTDA) whose task is to support and strengthen those in the software industry by any means necessary. For the past 3 years, Wealth Management System Limited (WMSL), developer of WealthMagik.com, collaborated with the NSTDA to organize this largest animation and media development project in Thailand. This year's contest was also organized in cooperation with the Thai Animation & Computer Graphics Association (TACGA) and the Capital Market Development Fund Foundation.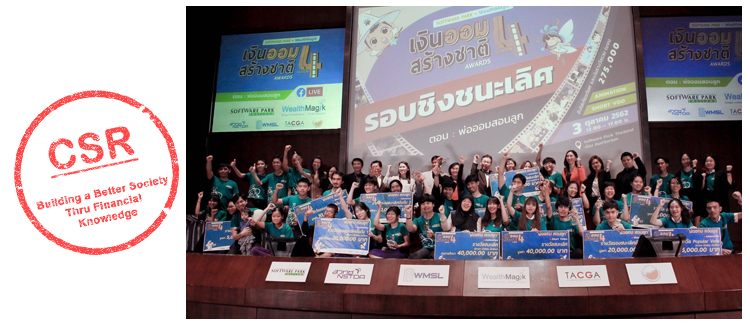 The Software Park – WealthMagik project was organized with the aim to encourage the Thai Society to realize the importance of saving for their future as well as promote to recognize and access technology that can help manage savings and investment. Also, the project enables students to develop their potential and increase their IT experience. This year's contest has two categories; developing animation video which is divided into 2 types, students and the general public, and the short video which is open for the general public. Fourteen teams (10 for animation and 4 for the short video) competed in the final round from the 76 teams that joined the contest.
The panel of judges was composed of the Executive Director of TACGA Khun Santi Laohaburanakij, Executive Vice President of WealthMagik Mutual Fund Brokerage Co. Ltd. Khun Jirasak Tonwongwal, and the Vice President of NSTDA Khun Suwipa Wanasathop. You can watch all the videos in the Software Park - WealthMagik Animation Awards Official Facebook page. Below are the winners of this year's competition.