WealthMagik has successfully held the second season of LTF/RMF The Battle Day 2017 at the Stock Exchange of Thailand Building on the 2nd of December 2017. The event provides the opportunity to the Thai Asset Management Companies to present to the public the features of the Long Term Equity Fund (LTF) and Retirement Mutual Fund (RMF) that they offer. Thus, investors then have the option to properly choose the right fund that is suitable for them.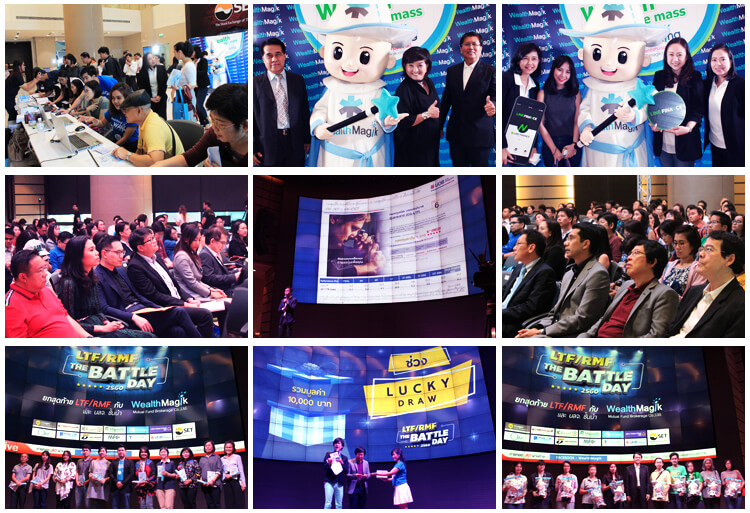 Twelve Asset Management Companies have joined the event this year. These are Krungsri Asset Management, CIMB Principal Asset Management, Kasikorn Asset Management, Manulife Asset Management, Krung Thai Asset Management, SCB Asset Management, ONE Asset Management, Philips Asset Management, Thanachart Fund Management, MFC Asset Management, Talis Asset Management, and UOB Asset Management.
In addition, Mr. Chaiwat Matevelungsun, Managing Director of WMSL, discussed about WealthMagik Data and Tools such as the platform's function to appraise the investor's risk profile and provide personalized investment strategy suitable to the investor's risk characteristics, how to achieve financial goals by using the platform's financial planner, screening the best fund available in the market, and so on. Also, a new feature called Portfolio Management from WealthMagik Pro has been announced in the event. The new free feature, though still in BETA, will be beneficial to investors who invested in multiple assets where they will be able to manage all of their assets in one place. Investors will be able to see the total sum of their assets, as well as the profits, loss and their portfolio value all the time.
[LIVE สด! ] งาน LTF/RMF The Battle Day ยกสุดท้ายกับ WealthMagik และบลจ.ชั้นนำ #ช่วงแรก นำเสนอกองทุนเด่น LTF/RMF เพื่อนๆที่ชม Live ถ้ามีคำถาม สามารถถามไว้ได้เลยนะครับ เราจะตอบกันแบบสดๆ #ThebattledayWealthMagik #LTF #RMF

โพสต์โดย WealthMagik - ลงทุนง่ายๆ แค่ปลายนิ้ว เมื่อ วันศุกร์ที่ 1 ธันวาคม 2017